Stars Suite Sheffield club licence revoked after death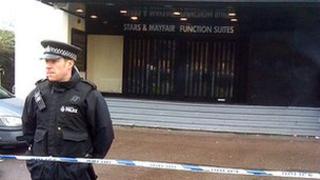 A nightclub in Sheffield where a man was killed on New Year's Day has had its licence revoked.
Sheffield City Council withdrew the licence after police said the premises was associated with serious crime.
Father-of-two Joshua Green, 27, was stabbed on the dance floor at the Stars Suite on Queens Road.
Premises supervisor Nigel Thompson said he would appeal against the decision which he considered "totally disproportionate".
Two men have been released on bail in connection with the investigation into Mr Green's death.
Police officers said Mr Green, from Manor Park in Sheffield, died of his injuries following a confrontation on the dancefloor.
Supt Martin Hemmingway, of South Yorkshire Police, said it was a complex case.
"One of the problems we had at the premises is that they were effectively being used by promoters to promote their own venue," said Mr Hemmingway.
'Deaf ears'
"The premises themselves were licensed as a function suite for a wedding or birthday.
"It had been taken over by nightclub promoters who were selling tickets and there have been significant problems at those events."
In a statement, Mr Thompson said: "We intend to appeal to the magistrates court immediately.
"The premises have operated trouble-free for over 15 years and have had two major incidents in the latter part of 2011.
"We agreed at the licensing meeting that we would revert to only hosting weddings and birthday party celebrations and not host promoted events but this fell on deaf ears.
"It is my view that not only have we not been supported by South Yorkshire Police but our premises have been used by the authority to send a message to other premises who may consider hosting these types of promoter events."