Zabihullah Rafiq murder: Family appeal over second man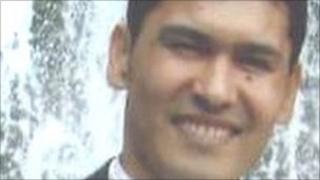 The family of a murdered Sheffield man have said they will not rest until a second suspect is found after a man was jailed for life.
Zabihullah Rafiq, 30, was found dead outside his flat in Gleadless in May last year.
Hassan Maruf, 20, of Hampton Road, Fir Vale, was found guilty of murder on Friday and was jailed for 26 years.
South Yorkshire Police said they wanted to trace Shafiq Habibi in connection to Mr Rafiq's death.
Police said they believed the suspect was in Afghanistan and were making every effort to arrest him.
In a statement, Mr Rafiq's wife, Zyrafete, said: "We are very happy with the murder conviction but, as a family, we will not rest until Shafiq Habibi is taken to trial."
Det Supt Andy Thompson, who led the inquiry, said both Maruf and Mr Habibi had worked for Mr Rafiq at a pizza takeaway shop.
"For at least two weeks, both Hassan Maruf and Shafiq Habibi had carefully planned to rob Zabi as he returned home in the early hours of the morning with the pizza shop's cash takings.
"Wearing balaclavas and armed with a knife, they attacked Zabi and fatally stabbed him in the heart.
"They fled the area, leaving Zabi bleeding to death on the pavement."
Mr Rafiq was found dead yards from his home on Callow Mount in the Gleadless Valley on 29 May last year.
Mr Thompson added: "Both Hassan Maruf and Shafiq Habibi fled the UK.
"Luckily Maruf was traced to Marseille in France, arrested and extradited to the UK.
"His conviction for murder and sentence reflect the callousness of the crime."