Casey-Lyanne Kearney stabbing in Doncaster: Knives found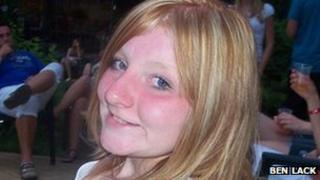 Police investigating the murder of a teenager at a South Yorkshire park have recovered knives.
Casey-Lyanne Kearney, 13, died in hospital after she was stabbed at Elmfield Park in Doncaster just after 13:15 GMT on Tuesday.
The knives were found by officers near the scene. Examinations will determine whether they were used by her killer.
Police said the attack appeared to have been random and unprovoked. A woman has been arrested on suspicion of murder.
The 26-year-old woman remains in police custody.
South Yorkshire Police said the attack had been reported to them by Casey-Lyanne herself.
Meet a friend
She was treated at the scene by police and paramedics before being taken by ambulance to hospital.
Speaking near the scene, senior investigating officer Det Supt Terry Mann said medics worked "tirelessly" to save Casey-Lyanne but she died at 21:25 GMT.
The detective said the teenager had left her home in Rossington at about midday, intending to catch the bus to Doncaster town centre where she was then going to meet a friend.
He said: "We believe that she then got off somewhere around this area here, and the next part we know is that, at 18 minutes past one yesterday, a call is received via South Yorkshire Police switchboard from Casey herself to say that she had been stabbed.
"At the same time, a passing member of the public has come by Casey and contacted an ambulance. In a very short period of time both police and paramedics arrived at the park area."
Mr Mann appealed to anyone who saw Casey-Lyanne in the area around the time of her murder or who saw anything suspicious to come forward.
He said she was wearing a black waist-length coat, blue jeans and knee-high boots. She was also carrying a black Bench shoulder bag with purple writing.
Acting Ch Supt Peter Norman, who heads South Yorkshire Police's Doncaster district, said the attack appeared to have been an "isolated, random and unprovoked incident".
He said: "We are monitoring community tension in the area and residents have responded positively to our officers after this tragic event.
"I have organised some additional police patrols in the area to both reassure the local community, and to ensure local residents and young people have an opportunity to talk to local officers and pass any additional information on to us."
Eyewitness John Willis, who was walking with his three children in Elmfield Park on Tuesday afternoon, said one of his sons spotted Casey in the immediate aftermath of the attack.
"He said he could see this young lady on her knees with her hands in the grass or in a bag in front of her, as if she was looking for something," said Mr Willis.
"Then he said she fell forward on her face and that's when he came running for me."
Doncaster Council's chief executive Jo Miller said the council was "deeply saddened by this tragic event".
"The person in custody was known to a number of local public agencies and we are working together to establish all the circumstances involved with this case," she said.