Pay deal ends Stagecoach bus driver strikes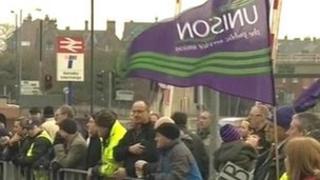 A six-month pay dispute between Stagecoach and its bus drivers in South Yorkshire has been resolved.
Drivers in Barnsley, Rotherham and the Dearne Valley started a series of strikes in November after turning down a 5.5% pay increase.
Stagecoach said a deal accepted by the Unite union on Friday was worth "a little less" than its original offer.
The company said it was pleased to have reached an agreement and hoped to "put this matter behind us".
Paul Lynch, managing director for Stagecoach in Yorkshire, added: "Most importantly, it means that our passengers will no longer have their bus services disrupted by unnecessary strike action.
"Throughout this industrial action we continued to run services for our customers by drafting in staff from across the UK.
"However, we are disappointed that our passengers have had to endure such a long-running dispute even though our pay offers were good ones and the deal which has ultimately been agreed is, as we always said it would be, actually worth a little less than we offered before strike action began."