PC Debra Martin 'coerced to change Hillsborough notes'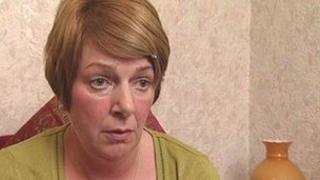 A former policewoman has claimed she was coerced into changing her evidence about the Hillsborough disaster.
Debra Martin said two West Midland Police officers pressured her to change a statement on the tragedy.
Ms Martin, on duty in the stadium in 1989 when 96 Liverpool fans died, said her evidence related to the death of 15-year-old Kevin Williams.
South Yorkshire Police said the claim was not new. West Midlands Police said any new allegation would be looked at.
The Attorney General has pledged to review the case for a new inquest into Kevin's death after an e-petition to parliament reached the 100,000 signature threshold.
Speaking earlier, Dominic Grieve, the government's top law officer, said he would review the evidence again and consider an application to the High Court.
'Still breathing'
He said he was minded to wait for the Hillsborough Panel to review all the relevant documents first.
The panel is to be granted complete access to all the records and and papers on the disaster with publication expected this summer.
The original inquest in 1991 returned a verdict of accidental death on him, ruling that 95 of the 96 victims were dead by 15:15. A 96th supporter, Tony Bland, fell into a coma and died in hospital in 1993.
Speaking about Kevin's death, ex-special constable Ms Martin said: "He was still breathing at 3.15 (15.15)
"I stayed with him, I was definitely sure that between 3.50 (15.50) and just gone four o'clock (16.00) that is when Kevin died.
"He didn't die at quarter past three.
"I was wearing a watch, a perfectly good watch, it was working.
"Being a police officer, it's a watch you stand by."
Ms Martin told BBC News a female police officer and her male colleague visited her on a number of occasions and pressured her into making changes to timings she noted in a written statement.
Ms Martin said: "The WPC was with a male colleague and they visited me at least three to four times over consecutive weekends.
"She treated me horribly and basically said I'd never been at Hillsborough so I said, 'Well, I've seen myself on film footage so I said sorry you're lying there'."
Ms Martin said the female officer who visited her told her of the remit she had been given.
Mother's petition
"She basically said that she'd been told from people that she'd got to do her job and that job was to tie loose ends up," Ms Martin said.
"I've always wanted to come forward and let people know there was a cover up. I never blamed South Yorkshire Police at all.
"Whatever has happened, it needs to come out, people need to realise there are two statements, my original and this horrible copy that has been done."
Kevin's mother, Anne Williams, contests the accidental death verdict at her son Kevin's original inquest.
Kevin, who was 15 at the time, was one of the Liverpool fans who died after the crush at Sheffield Wednesday's stadium during Liverpool's FA Cup semi-final match against Nottingham Forest.
Mrs Williams and her supporters say Kevin was still alive at 16:00.
His mother, from Liverpool, set up the e-petition urging the government to open a new inquest under section 13 of the Coroner's Act, wanting the accidental death verdict to be overturned.
In a statement, West Midlands Police, which was the force charged with investigating the role of South Yorkshire Police on the day, said thousands of detailed statements were taken by its officers.
"West Midlands Police investigated the sad events of that day in a rigorous and robust manner which was praised in the final report into the Lord Justice Taylor inquiry," it said.
"Any new allegation made to West Midlands Police would be thoroughly and professionally investigated."