Barnsley's new centre for 'green' building techniques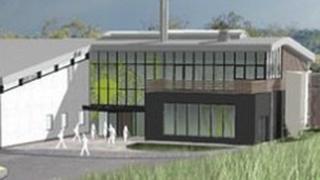 A new college has opened in South Yorkshire to train people in the latest eco-building techniques.
The £4.5m Think Low Carbon (TLC) centre, based at Barnsley College's Honeywell site, demonstrates renewable energy sources and energy-efficient building methods and materials.
It will teach about 100 people a month on short courses.
Wendy Bussey, the centre manager, said it was not just about learning new skills but adapting existing ones.
Ms Bussey added that some recent building techniques had come full circle from traditional ideas like using sheep's wool for insulation and straw bales for building material.
It is hoped the centre will help more homes and businesses in the region become energy efficient and the local construction industry will be ready for new legal requirements.
Rainwater flushes toilets
The centre includes a wood-burning biomass boiler to run the central heating, solar panels on the roof and an air-source heat pump provides some under-floor heating.
Recycled rainwater is used to flush the centre's toilets.
The official opening was attended by 150 guests including George Clarke, architect and TV presenter.
Mr Clarke said the new centre could only be good for the building industry.
He added there should be no reason why "good and beautiful buildings" should not be built ecologically.
Frank Johnston, chairman of governors at Barnsley College, said: "Sustainable construction is a key sector for new 'green' jobs".