Sheffield offered £3m for new railway station bridge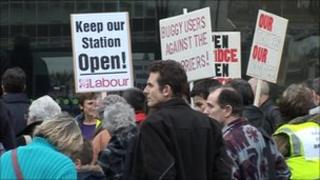 The Department for Transport (DfT) has offered £3m to fund a new bridge at Sheffield railway station.
The cash was offered at a meeting on Wednesday to resolve a long-running battle over ticket barriers at the station.
Sheffield MP Paul Blomfield said the DfT's offer was "a very positive step".
East Midlands Trains first proposed installing ticket barriers in 2007, but campaigners said it would block a vital thoroughfare into the city.
The current footbridge takes rail passengers to their platforms, but also provides a pedestrian link between the city centre and the Park Hill and Norfolk Park areas.
Keith Hayman, chair of Residents Against Station Closure (RASC), has been involved in the campaign from the beginning.
"This is the first time in four years that the Department for Transport has recognised that this issue is important enough to the community," said Mr Hayman.
Fare-dodging problem
He said although the money would go "some way" to creating a second bridge, it may not be enough.
"I'm no expert in how much it costs to build bridges, but I suspect the right bridge with the right connections would cost more than £3m," he said.
"I'm concerned that the city might be asked to cop for the extra."
The DfT said the new footbridge would not be shared with rail passengers and would allow free pedestrian access.
At the same time, it would mean East Midland Trains could install gates at the existing footbridge, preventing fare-dodging.
Sheffield representatives have a fortnight to consider the DfT's offer, otherwise the money will be given to projects in other parts of the country.
In November 2009, Sheffield City Council rejected plans for ticket barriers on the grounds that they would affect the character of the listed building.
In April 2010, the former transport secretary Lord Adonis said barriers would not be installed before a new footbridge was built.