Failed Earth Centre in Doncaster becomes children's educational activity centre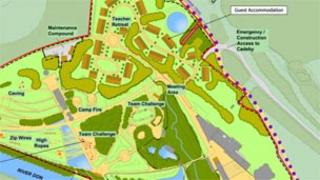 A failed environmental visitor attraction in South Yorkshire has been given a £10m revamp to turn it into a children's adventure centre.
The Earth Centre originally opened in 1999 on the site of a former colliery at Denaby near Doncaster.
Educational services company Kingswood bought the land in 2011, turning it into the Dearne Valley Centre.
The new complex has an 11,000 sq ft [1,000 sq m] sports hall and indoor adventure playground.
Deputy centre manager Chris Garsden said the original Earth Centre buildings had been cleaned and restored to their original condition.
"We've recommissioned the solar canopies and basically brought the centre back to life, adding the extras that young people need," said Mr Marsden.
Local collieries
There are climbing walls, a zip wire and a 42ft abseiling tower which can be accessed by disabled people, as well as computer classrooms and two amphitheatres.
Cabins which sleep 320 people have been named after local collieries.
The Earth Centre was built as a flagship Millennium Project at a cost of £55m.
It closed in 2004 after failing to attract enough people, and the land was passed back to Doncaster Council and the Millennium Commission.
In 2010, Doncaster Council revealed that it was spending over £200,000 a year on the Earth Centre's upkeep and sold the land to Kingswood in 2011.
Kingswood said that 200 full-time and temporary jobs could be created within 18 months of opening, from educational instruction to IT support and catering.