Hecklers disrupt Scargill play at Barnsley Civic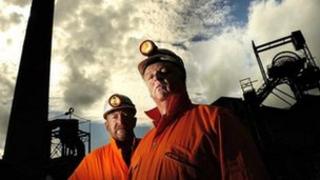 A play which portrays former National Union of Mineworkers (NUM) president Arthur Scargill was disrupted by hecklers in his home town of Barnsley.
The cast of Dust was disrupted at Barnsley Civic on Friday by loud arguments breaking out in the audience.
Someone shouted that Mr Scargill's on-stage character was not being allowed to defend his actions during the miners' strike.
The production company said the show finished and the audience calmed down.
A spokesperson for Quidem Productions said: "This is a stage play based on the character of Arthur Scargill where he is challenged to explain his policy of leading the miners out on strike in 1984 and the subsequent effect on coal communities.
"It appears that some of the supporters of Mr Scargill have difficulty in understanding the difference between a documentary and theatrical interpretation."
Friday night's performance was ahead of a national tour of small theatres in former coalfield areas.