Rolls-Royce Rotherham factory plans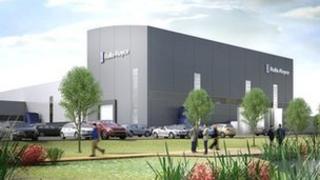 Engineering group Rolls-Royce has submitted a planning application in South Yorkshire which could see up to 300 jobs created.
The company hopes to build three factories based at Rotherham's Advanced Manufacturing Park.
It is expected two of the sites will create parts for a new nuclear reactor in Somerset, and cast blades.
Outline planning permission was given by Rotherham Council last year. A final decision is expected in May.
In itsapplicationthe company hopes to build on a combined 44,700sq metre space which will contain offices and industrial floor space spilt across three plots at the Advanced Manufacturing Park at Catcliffe.
Earlier this year Rolls-Royce secured a deal to produce components for a new nuclear plant at Hinkley Point in Somerset, as part of a £400m deal with French energy giant Areva.
The company also has plans to open an advanced blades casting facility site spanning 17.9 acres.
If the project is given the go-ahead Rolls-Royce hopes building work on the facility will start in the latter half of this year.