Sheffield hospital surgeon performs simultaneous brain ops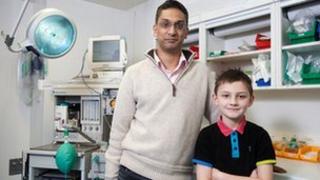 A neurosurgeon carried out simultaneous emergency brain operations at a South Yorkshire hospital.
Saurabh Sinha operated on both Owen Wilkinson, eight, and a 12-year-old boy at The Children's Hospital, Sheffield.
Owen, who had been transferred from Barnsley Hospital, had the same fractured skull injury as the other boy whose operation was about to start.
"People dropped what they had to do to save the life of these children," Mr Sinha said.
"In an emergency case you deal with the patient in front of you."
He said operating on the two boys simultaneously, was the best way of making sure he and his team saved both lives.
Fathers 'played football'
Owen's mother, Caroline Wilkinson, said the medical staff deserved a "massive thank you" and without them Owen, who had suffered a fractured skull "wouldn't be here today".
His parents did not realise the operations were being carried out at the same time until they happened to meet the 12-year-old's parents, who do not want to be named, at the hospital.
Mrs Wilkinson said: "We got talking to the other couple and realised the two boys had the same injury."
The two fathers also realised they had played against each other in the local football league.
"I'm still in contact with the other boy's mum and we're hoping to take both boys out together at some point," Mrs Wilkinson said.
Since the operation, Owen's family has undertaken fundraising for the hospital, which carries out about 11,000 operation a year.