Sheffield railway station bridge offer accepted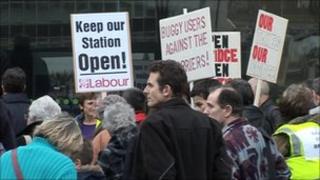 The government's offer to solve a long-running access dispute at Sheffield railway station has been accepted.
East Midlands Trains wants to install ticket barriers but they would block a thoroughfare into the city centre.
The government offered £3m for a new bridge which would not be shared with rail passengers and would allow free pedestrian access across the station.
City officials accepted the offer but said the upgrading of a goods bridge and other options should be considered.
They said "non-structural" options such as further ticket machines, inspectors and ticket spot checks were cost-effective and would "go a long way towards changing attitudes to ticketless travel".
Paul Blomfield, the Labour MP for Sheffield Central, Councillor Leigh Bramall, Sheffield City Council's cabinet member for transport, and David Young, from the South Yorkshire Passenger Transport Executive, have written to the Transport Secretary Justine Greening to accept the bridge offer.
They said: "Furthermore, we welcome your commitment to not install barriers until the new bridge is in place and open to the public.
"As you know we all share your desire to resolve this issue pragmatically and cost effectively.
"So whilst we accept the funding offer we are disappointed with your conclusion that the suggested 'non-structural' options and the upgrading of the goods bridge are not cost-effective, without at least undertaking further work."
Mr Blomfield said he thought the idea of turning the former goods bridge into a pedestrian route "ought to be further explored" and the letter asked Ms Greening to commission Network Rail to develop a proposal for that option alongside a design for the new bridge.
The MP added: "As we said before there is a long way to go, but we now look forward to hearing from the Department for Transport... and we're 100% committed to working with them to maintain pedestrian access through Sheffield Station."