Protest over plans to close Sheffield respite homes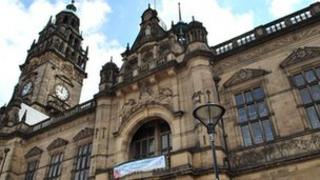 More than 6,000 people have signed a petition opposing the closure of two respite homes in Sheffield.
The Hazelhurst and Sevenfields homes provide short-term accommodation and care for elderly people who have left hospital.
The city council, which runs the homes, will debate the closures in a meeting after the petition triggered a debate.
In a statement, the council said the homes did not provide "nursed care" and the buildings were not ideal.
The council's policy is that any petition received with more than 5,000 signatures must be discussed in a full council meeting.
'Biggest petition'
John Mordecai, chair of the Sheffield local government branch of the trade union Unison, said the council wanted to "to procure the service from the private sector."
"We are hoping that the council look at the issue again and I think the pressure from the public reflects that.
"I mean this is probably now the biggest petition the council has had from people on any one issue."
Sheffield City Council said in its statement: "Although the quality of care at Hazelhurst and Sevenfields is really good, neither centre provides nursed care, which is what the NHS wants to commission in the future.
"Nor are the buildings ideal settings for intensive rehabilitation and that is why these matters are being discussed now."