Bin collector strikes in Sheffield postponed after Veolia pay deal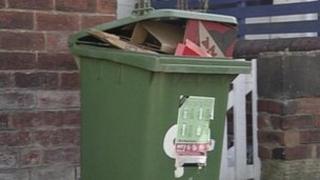 Strike action proposed by refuse collectors in Sheffield has been postponed.
The collectors had said they would go on strike for three consecutive Fridays in April, in a dispute over pay.
The company involved in the dispute, Veolia, has put forward an improved pay offer.
The GMB union said it had suspended all strike action while a formal ballot on the latest offer is held.
The union is recommending that its members accept the deal.
In a statement, Veolia said: "Veolia Environmental Services and the GMB are pleased to announce that the outcome of their discussions with Acas have concluded in an agreed package that GMB are happy to strongly recommend for their members' acceptance."
Peter Davies, of the GMB union, said: "I'm putting it through with a strong recommendation, but it's only fair it is discussed with the members.
"We're pleased with the outcome of the talks.
"Nobody wants to withdraw labour - we've talked about pay for years, it's very, very complicated."