Forty arrested in South Yorkshire scrap yard raids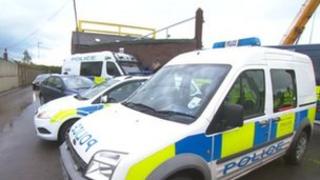 Forty people were arrested after South Yorkshire Police raided scrap metal yards suspected of buying and selling stolen material.
More than 400 officers searched 10 sites along with colleagues from agencies including Northern Power Grid and BT.
The force said it had recovered strong evidence of scrap metal crime at nine of the yards.
A spokesman said the operation followed months of investigations.
Ch Supt Bill Hotchkiss, regional strategic metal theft co-ordinator for Yorkshire and the Humber said: "The full extent of the amount of material and assets recovered from the sites searched today won't be clear for some time.
"We have sent a strong message to rogue tradespeople and those suspected of creating a market for stolen metal.
"Metal theft is not a victimless crime, it causes interruption to the provision of utilities such as electricity, water, gas, telecommunications and rail transport and has a far-reaching impact on communities."