Mayor of Doncaster criticises Mexborough supermarket plan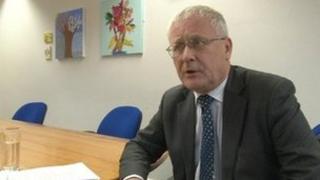 The Mayor of Doncaster has described plans for a new supermarket in Mexborough as "dangerous".
Doncaster Council approved plans for a 50,000 sq ft (4,900 sq m) supermarket on Station Road on Tuesday.
Peter Davies, from the English Democrats, said the development would do nothing to revive the town centre.
Council officials had recommended approval and the developer said it represented a "significant investment" in the town.
The Labour-controlled planning committee was told the scheme would create jobs and would not significantly impact existing shops.
But Mayor Davies said: "I think it is a dangerous decision. Mexborough is hardly the most successful shopping area in Doncaster.
"We've got a run-down town centre that needs money investing in it. I don't see this particular development helping the situation one iota."
Developer, Kier Property Developments, said in a statement it welcomed the decision.
The company said: "The scheme that we have brought forward represents a significant investment in Mexborough.
"The new store will not only encourage people back to Mexborough to do their food shopping, it will also support the high street, ensuring the town centre remains a vibrant and lively place to shop."