Dodworth residents' health fears over nickel site plan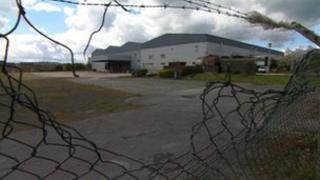 Residents in a South Yorkshire village are campaigning against plans for a nickel recycling factory they fear could impact on their health.
ELG Haniel Metals has applied for permission to build a waste treatment plant on the Fall Bank Industrial Estate in Dodworth, near Barnsley.
Resident Martin Shipston said the potential health risks were "severe".
The company say its plan is robust and people need not fear for their health, but declined to comment further.
If the plan is backed, the plant will wash and dry high nickel alloys to allow it to be reused by the aerospace industry.
'Beautiful environment'
The Health Protection Agency states nickel is toxic and its release into the environment should be avoided.
The residents fear particles of the metal will spread via the proposed plant's chimney.
Barnsley Council's planning regulatory board will discuss the application later this month.
The company is applying to change the permitted use of the site - a former coat hanger factory - from light to heavy-industrial.
Mr Shipston said: "The nickel recycling process is much heavier and much more dangerous.
"The medical facts and risks around this type of process, should it go wrong and there be a leak into the environment or water table, is severe."
June McGrow, who lives on the adjacent Champney Fields estate, said: "They are saying 99% of the emissions they can account for but it's this 1%. One per cent of 10,000 tonnes of nickel a year is not inconsequential."
Health risk 'minimised'
Mrs McGrow said there were concerns a stream running underneath the industrial estate and through Dodworth, including through gardens and cellars, could be contaminated.
"We just don't want these kind of things so close to houses," she said.
"It's a change of use and it's the wrong type of business in the wrong place."
ELG Haniel Metals' planning statement states: "Impacts on human health and the environment by the facility will be limited, as only small amounts of particulates and combustion gases will be released from the stack.
"The facility will be permitted under a bespoke waste permit regulated by the Environment Agency, and a Part B environmental permit regulated by the council. Regulatory control imposed through these regimes will ensure that the risk to human health and the environment is minimised."