Sheffield hospice starts £4m fundraising appeal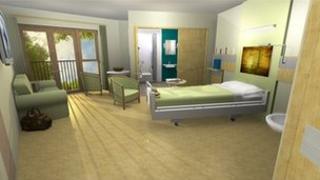 Sheffield's only adult hospice has started an appeal to raise nearly £4m for new in-patient facilities.
Next month contractors will start work on a £5.5m extension and renovation project at St Luke's Hospice, which costs £4m a year to run.
A spokesman for St Luke's, a registered charity, said the work would radically improve facilities.
The hospice had wanted to move to a new site but axed that plan in 2010 because of financial pressures.
Una Moran, director of fundraising, said: "St Luke's was the first hospice outside of London to be built, which is something that we are really proud of and I think the people of Sheffield are proud of.
"It was state of the art in 1971 when it opened but 40 years later it's not state of the art anymore and we have got to now change it, we don't have a choice we have to do this."
'Massive challenge'
Ms Moran said the hospice currently only had two bathrooms between 20 patients but each of the new rooms will have en-suite facilities. They will also have an outdoor terrace or balcony.
The work is expected to be completed by August 2013.
Ms Moran said an "awesome" £1.6m had already been raised, leaving the hospice with a further £3.9m to find.
She said: "It's a massive challenge but we are confident that people in Sheffield are exceptionally generous.
"We have looked at what we need for our patients, not just for now but to future proof us to make sure that we're here for the next 40 years, which will give our patients a fantastic facility and the privacy and dignity that they need and deserve."