Twin plaques for Barnsley's China missionary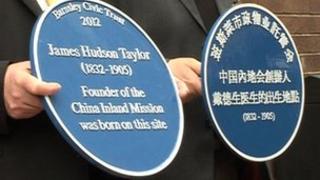 Two blue plaques, one in English the other in Mandarin, have been unveiled in South Yorkshire at the birthplace of a Christian missionary.
James Hudson-Taylor founded the China Inland Mission.
He was born in Barnsley in 1832 and went to China in 1853. The plaques will be unveiled with Chinese music and dancing.
"Interest in this man has been greater than anything we anticipated," organiser Dr John Foster said.
"I am astounded how good this guy was. At the age of 21 years old he just ups and offs to China.
"What an inspiration for young people."
Mr Hudson-Taylor adopted the culture and customs in China, learning the language and wearing Chinese dress.
It is intended for the plaques to form part of a Hudson Taylor trail including 15 local places eventually.