South Yorkshire firefighters to vote over industrial action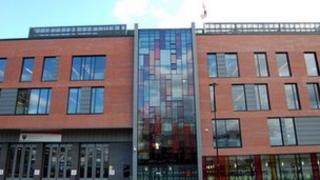 Firefighters in South Yorkshire are to be balloted for industrial action, it has been announced.
The Fire Brigades Union (FBU) has given the fire service seven days' notice of a ballot for action short of a strike.
The union said the ballot would take place unless plans for cuts and changes to terms and conditions were reversed.
The fire service said the move was disappointing and it would continue to discuss the issues with staff.
'Enough is enough'
The union said it objected to the planned closure of four fire stations, the removal of three countrywide roving pump engines and a new shift system which would involve working 9-5 for four days and include sleeping at the fire station.
FBU brigade secretary John Gilliver said: "Fire crews have shown they can agree to be flexible to protect the front line, but these cuts are going too far and we have serious concerns regarding the safety of the public and firefighters in South Yorkshire.
"As well as front line cuts, senior managers have been imposing changes to our members' terms and conditions without agreement and now firefighters in South Yorkshire have said enough is enough."
In March fire authority members voted to close stations in Darnall, Mansfield Road and Mosborough in Sheffield and Royston near Barnsley.
They will be replaced with two stations at Sheffield Parkway and Birley.
Budget cuts
Last month the fire service said firefighters were being offered a 29% pay increase if they volunteered for the new shift system.
The measures are all aimed at saving the fire service about £10m by 2015.
In a statement, the fire service said: "This is disappointing, given that the fire authority made its decisions, following a full public consultation, to maximise public safety despite government cuts to our budget of over £10m.
"It was unfortunate that FBU officials were unable to put forward any alternative proposals to make the necessary savings during the public consultation period.
"We continue to have constructive discussions with our staff over these issues, and will keep trying to engage the FBU's officials as we implement the authority decisions and continue our work to improve public safety across South Yorkshire."