Sheffield recycling centre staff strike over cuts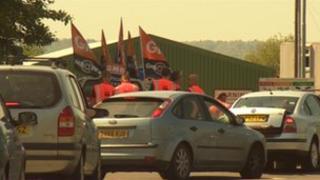 Workers at five household recycling centres in Sheffield have started a three-day strike over planned changes to opening times and job cuts.
GMB union members are on picket lines outside the council-owned facilities in Douglas Road, Blackstock, Neighton, High Green and Deepcar.
A plan to close sites on week days will cut about £500,000 from the council's budget and lead to seven job losses.
The GMB has issued notice of a further four-day strike to start next Saturday.
Peter Davies, GMB organiser in Sheffield, said: "If they don't move then we will hit them every weekend thereafter until they do, or until our members decide this is unwinnable."
Mr Davies said staff at the sites had received hundreds of letters of support from people who were opposed to the closures.
SOVA Recycling, which is sub-contracted to run the sites on behalf of the council, has committed to keeping open the Longley Avenue West and Blackstock Road sites from 09:00 BST to 18:00 BST while the strike is on.
Sheffield City Council has apologised for any inconvenience caused by the strikes and said it was working with the union, staff and SOVA to resolve the dispute.
Councillor Jack Scott, cabinet member for recycling, said: "The basic problem is that Sheffield is facing massive government cuts.
"Of course, if there was an alternative to making this cut, we would take it. But the reality is that this is the consequence of such massive cuts."