Tiger's heart stops during operation at wildlife park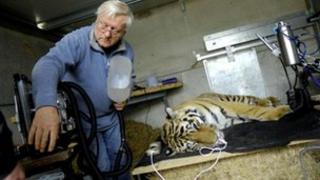 A female tiger whose heart stopped for 12 minutes during an operation at a wildlife park is recovering after being revived with adrenaline injections.
Sayan, a three-year-old Siberian tigress, was brought to Yorkshire Wildlife Park in Doncaster, as part of a breeding programme.
She was undergoing root canal work last week when her heart stopped beating
The park said the tiger, who weighs about 160kg, was back in her enclosure and recovering.
The animal was moved to Doncaster from Kent a year ago to encourage a pair of endangered Amur Siberian tigers to reproduce.
She joined a male tiger called Vladimir who had also been moved there.
'Nine lives'
Vet Alan Tevendale said they were two hours into the operation when they found no pulse or heartbeat.
"We then immediately started cardiac massage and gave a shot of intravenous adrenaline. When this didn't work we had to give another shot of adrenaline directly into the heart whilst we continued cardiac massage.
"When I checked again she had a pulse and heartbeat.
"Gradually, she returned to a steady rhythm. After five minutes we took her off ventilation and she managed to breathe herself."
Cheryl Williams, director of the Yorkshire Wildlife Park, said the tiger had suffered an extremely rare reaction to the anaesthetic.
"We had to wait for her to come round and check that she hadn't any brain damage because of lack of oxygen."