Baftas: Warp Films win award for This is England 88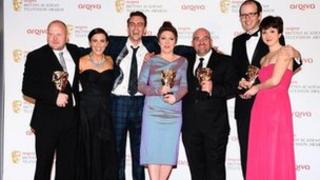 Warp Films, based in Sheffield, has won a TV Bafta award for best mini-series for This is England 88.
The mini-series, broadcast on Channel 4, was filmed in Sheffield and is a continuation of the 2010 series This is England 86.
The dramas were written and directed by Shane Meadows and follow-on from his 2006 film This is England.
Mr Meadows was presented with the award at the Royal Festival Hall in London on Sunday.
The film, about a 12-year-old boy befriended by a group of skinheads in 1983, won a Bafta film award in 2007.
Barry Ryan, head of production for Warp, said: "We always set out to make good stuff and the awards are always a bonus on top."
The award is important for raising the company's profile, Mr Ryan added.
He said: "Although we've been making films for 10 years, we've not made as much television.
"You've got to prove yourself and this is probably only our third TV thing so the award should make a massive impact on people wanting to work with us."
A final instalment of the This is England franchise, set in 1990, is due to be produced later this year.