Clean-up after flash flooding in South Yorkshire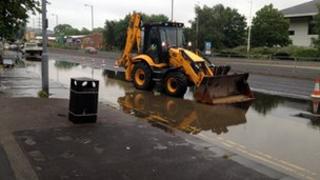 A clean-up operation has been taking place in parts of South Yorkshire after heavy rain caused flash flooding.
South Yorkshire Fire and Rescue said it received about 75 phone calls from members of the public on Sunday evening.
Some areas of Barnsley including Atherlsey North and South were affected, as well as the Hillsborough area of Sheffield.
Sheffield Council said it was assessing the damage caused by the flooding.
The fire service said it pumped away flood water on Elm Lane to avoid the water reaching a nearby electrical sub-station in the city.
Middlewood resident Pallavi Deshpante told the BBC she had moved out of her home because of the water damage.
"Water was coming through my front door. I have a seven-month-old baby so I was just panicking.
"We thought sandbags would help but they came so much later."