Housing plan for Wincobank, Sheffield expected to be approved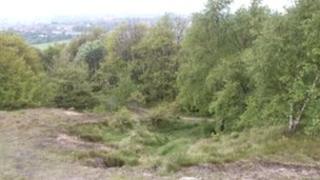 Plans to build 24 homes close to an ancient monument in Sheffield are expected to be given the go ahead by councillors later.
Developers plan to build close to Wincobank Hill, the site of an Iron Age hill fort.
Opponents claim the development is also on the route of a Roman ridge, a series of ancient earthworks but developers have said there is no evidence of this.
Council officers have recommend the plans be approved.
More than 400 people have objected to proposals for the development off Sandstone Road and Beacon Road.
'Historical evidence'
David Anston, an environmental consultant and a member of the Friends of Wincobank Hill, said local residents were concerned about the development.
Mr Anston said: "There is loads of historical evidence from old aerial photographs and Ordnance Survey maps that the ridge passed that way."
The Roman ridge, possibly built for defensive purposes, is thought to have stretched for about 10 miles (16km) in South Yorkshire but little of it has survived.
The developers claim their archaeologists have found no evidence for the ridge.
Katrina Hulse, from the developer's planning consultants DLP Planning Ltd, said: "We employed professional archaeologists to undertake studies guided by the council's archaeological advisory service.
"Extensive field trenching down to the bedrock found there was no evidence of the ridge and the archaeologists have concluded that it was unlikely it passed through the development site."
Council officers have recommended approval saying the development would not have a harmful impact.