South Yorkshire flood clean-up after heavy rainfall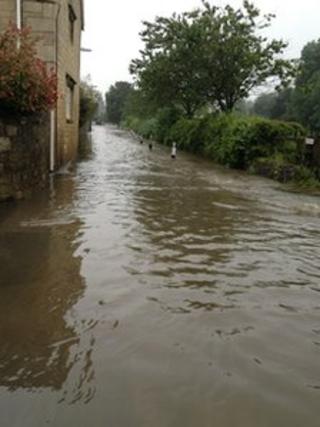 A clean-up is under way in South Yorkshire after heavy rain flooded properties and debris blocked rivers.
Floods on 6 July forced a residential care home in Barnsley to be evacuated and a small footbridge over the River Dearne in Darton to collapse.
The Environment Agency said 45 specialists were clearing away fallen trees and debris from watercourses in Doncaster and Sheffield.
Further heavy rain is forecast and river levels are being monitored.
Teams are working near the River Don near Doncaster, as well as rivers Dove and Dearne, near Barnsley, and rivers Sheaf and Loxley in Sheffield.
Tony Lunn, from the Environment Agency, said: "We've got teams across South Yorkshire working round the clock to keep the rivers flowing as freely as possible."
Mr Lunn said a team was working to remove a fallen tree that had wedged against a bridge on Leppings Lane, Hillsborough.
Home evacuated
The agency said the collapsed footbridge in Darton, which was almost submerged downstream, was being monitored and would be removed once the water level had dropped.
The agency also said it was monitoring river levels across Yorkshire as more rain had been forecast in the next few days, with some areas expected to be quite "heavy in places".
The Epworth House Care Centre at Thurnscoe, near Barnsley had to be evacuated last Friday. About 52 residents were moved to alternative homes, Barnsley Town Council said.
The council said its staff and firefighters from South Yorkshire Fire and Rescue had worked throughout the day and into the early hours of Saturday morning to close roads and move residents.
About 2,000 sandbags were issued to residents in flood-affected areas including Lang Avenue, Lundwood and Riverside Gardens, Bolton-on-Dearne, the council said.
A command centre was set up by South Yorkshire Police in Sheffield last Friday over fears of flooding in the city. Officers had advised people to avoid the Meadowhall area because of high water levels on the River Don.