Green Flag Awards keep Sheffield's reputation as green city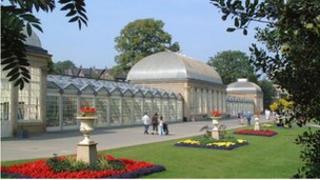 Sheffield has maintained its reputation as one of the greenest cities in the country, winning a record number of awards for its parks and green spaces.
The city won 21 Green Flag Awards, more than any other place in the Yorkshire and Humber region.
The awards represent the national standard for quality parks and green spaces in England and Wales.
Charnock Recreation Ground, Manor Fields, Millhouses Park and Wyming Brook won new awards, the council said.
Paul Billington, director for culture and environment at Sheffield City Council, said parks were expensive to maintain, but the council recognised the important role they play in the city.
"Sheffield is blessed with green space. We can't not maintain it," he said.
Green Flag award applications are judged against eight key criteria including sustainability, conservation and heritage, and community involvement.
Volunteer-run parks
Paul Todd, from Green Flag Awards, said judges were impressed with the quality of Sheffield's green spaces.
"It's the diversity and how much the community are involved in working with the local authority to ensure they're maintained to such a high standard," he said.
Mr Todd said of 1,424 Green Flag locations in the country, Sheffield had 20.
"Seven of the sites in Sheffield are managed by volunteers and community groups working with the council. A lot of cities don't have that," he said.
Mr Billington said the input of volunteer groups was essential, but so was a rise in allotment fees and new parking charges at Graves, Millhouses and Hillsborough parks.
"Our parks are so loved and so visible, we can't just stop [maintaining them] - but we have to be a bit more inventive and efficient and look for more sources of income to try to protect the front line," Mr Billington said.
"Parks aren't there to generate income, they're an escape from the urban, commercial world, but...the only alternative is we keep cutting and standards fall."