Barnsley's five giant miner's lamps saved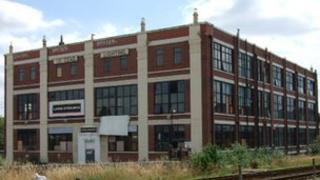 Large concrete replicas of a miner's lamp on top of a landmark South Yorkshire building due for demolition will be kept for display in a museum.
The demolition of the CEAG building on Kendray Street, Barnsley, should be completed by the end of September.
Models of the CEAG electric lamp are on top of four columns at the front of the building, with a fifth replica at one corner of the building.
The five-foot tall lamps will be seen at the Experience Barnsley museum.
The site is being cleared for eventual development as part of the £125m Marketplace Barnsley scheme, due for completion in 2015.
It includes a department store, cinema, retail and leisure units and an extended market hall.
The demolition site is close to a railway line and track closures will take place on three nights in September but there should not be any disruption to train schedules, according to the council.
It also said there would be little or no disruption to traffic.
CEAG was established in 1912 when the company won a government competition to design a safety lamp.
By 1919 about 500,000 of the lamps had been made and the manufacture of cap lamps for miners continued until 2005.
The firm still supplies many types of industrial lighting and used the site from 1936 until 2006 when it moved to a new location.