Fatal Barnsley lamppost crash driver named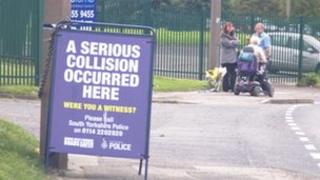 A man who died when a car crashed into a lamppost in Barnsley has been named by police.
The crash on Industry Road is believed to have happened when a car overtook a motor scooter near a bend at 22:25 BST on Friday.
Police have named the man who died as 22-year-old Ben Moore, of Lundwood, Barnsley, who was driving. Four passengers in the car were injured.
Two men were arrested on suspicion of causing death by dangerous driving.
The men, aged 19 and 21, were later released on bail while inquiries continue.
One of the injured passengers, a 17-year-old girl, remains at Sheffield's Northern General Hospital, where her condition was said to be life-threatening.