Jessica Ennis 'inspires' next generation of athletes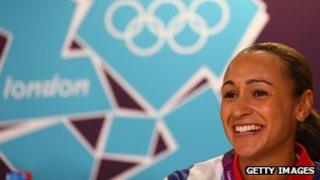 South Yorkshire heptathlete and Olympic gold medal hopeful Jessica Ennis is inspiring a new generation of athletes, her former PE teacher has said.
Miss Ennis, from Sheffield, has begun her two-day bid for heptathlon gold at the Olympic Stadium in London.
Chris Eccles, who taught Miss Ennis at King Ecgbert School, said every pupil knew about the athlete's achievements.
"They are inspired by her because they can see someone from their own town being so successful," he said.
"They see people like Jess as great role models."
'Immense pressure'
Mr Eccles said he was sure that Miss Ennis was taking the Olympic challenge "in her stride".
"I'd imagine that underneath, like any performer, she's got butterflies and nerves, but you use them when you get on the starting blocks," said Mr Eccles.
"It's immense pressure and the weight of expectation on her shoulders is unbelievable."
Teachers and students are expected to congregate at Miss Ennis's former school later to celebrate her achievements and to wish her luck.
Hundreds of supporters are also expected at Sheffield's Don Valley Stadium to watch the heptathlete's Olympic efforts on a giant screen.
Miss Ennis started running at the stadium when she joined the City of Sheffield Athletic Club at the age of 13.
'So proud'
Despite being a world-class athlete, she still competes for the club in the Northern League.
Club chairman Mike Corden said Miss Ennis was a "phenomenon".
"Our kids in the club are inspired by her. They are so proud of her," he said.
"Believe me, they will be glued to the television and they will probably be more nervous than Jess."
Miss Ennis is due to compete in the 100m hurdles, the high jump, the shot put and the 200m heats on Friday.
The Olympic heptathlon competition concludes on Saturday.