Team GB taekwondo star Sarah Stevenson 'inspired me'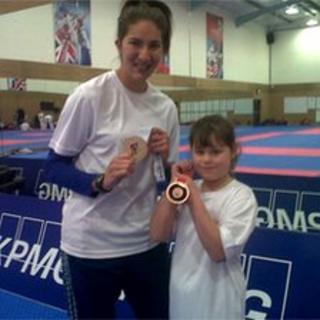 A 10-year-old girl who took up taekwondo after watching GB medal hopeful Sarah Stevenson has said she has been inspired by the sporting star.
Alex Turner, who lives in Leeds, took to the sport after watching television coverage of Ms Stevenson competing in the 2008 Beijing Olympics.
She travels to Doncaster to train with Stevenson's first coach.
Ms Stevenson's hopes of a 2012 Olympic medal have been dashed after she lost her first bout in the -67kg division.
The defeat meant she could not win the gold or silver medal. The later defeat of USA's Paige McPherson in the quarter-finals meant Stevenson would not be included in the qualifying rounds for the bronze medal bouts.
The 29-year-old Doncaster-born athlete is the reigning world champion having regained her title in South Korea last year.
Both Stevenson's parents have died in the past 18 months. She has also had to overcome a serious knee injury.
'Absolutely proud'
Alex, who has been on the taekwondo star's Inspire programme and trained with her, said the Olympics would be dedicated to her parents.
"Sarah is going to fight for her mum and dad because she wanted them at the Olympics."
Alex, who hopes to compete in future Olympics, is set to move to Doncaster after her parents took the decision to move to help her focus on the sport.
Ms Stevenson's family and friends travelled to the capital to watch the athlete compete.
Her godmother, Angie Peart, spoke to her on Tuesday and said: "We're absolutely proud as anyone could be in the whole wide world. I mean that with all my heart."