M1 Man of Steel sculpture plans approved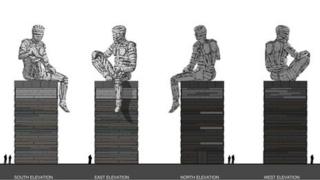 Plans for a 30-metre sculpture standing by the side of the M1 overlooking Sheffield have been approved.
The Man of Steel sculpture - a figure sitting casually on a steel plinth - is expected to be one-and-a-half times taller than the Angel of the North.
Artist Steve Mehdi said it would cost £2.5m and be privately funded.
The sculpture will be built on a site in Kimberworth and be visible from the M1 Tinsley viaduct, between Sheffield and Rotherham.
Rotherham Council has given planning approval for the artwork.
'Long journey'
Mr Mehdi, a former steel labourer, said he had been working on the project for a number of years.
"Four years ago I had an art gallery and I created a collection of sculptures and this was one of those sculptures, he was called Man of Steel.
"People who came in and saw this sculpture, they all said that could be our Angel of the North," said Mr Mehdi.
"Everybody who saw the sculpture had the same view so we thought let's look to do this."
Mr Mehdi said they were now working on raising funding but hoped it would be ready by 2015.
"It's like Mo Farah said in the Olympics. It's been a long journey, it's about grafting."