Sheffield recycling workers set to strike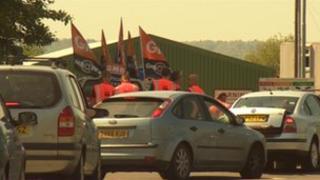 Workers at five waste and recycling centres in Sheffield are set to go on strike as part of a continuing dispute.
Sova Recycling, which manages the centres for Sheffield City Council and waste management company Veolia, said it had been served notice for industrial action on 1 and 2 September.
A spokesman for the company said it was to hold a meeting with the GMB union on 30 August ahead of the strike.
Nobody from the GMB was available to comment.
The union previously said the dispute was over new terms and conditions for workers and reduced opening times. The dispute has been going on since December 2011.
Previously all five recycling sites were open seven days a week.
As a result of the changes in opening times, the sites at Woodhouse, Deepcar and High Green are now open six days a week including weekends, while the Gleadless site is open four days a week including weekends.
Meanwhile, the Shirecliffe recycling site at Longley Avenue West remains open seven days a week.
'Massive government cuts'
According to the council the change would save £500,000.
Jack Scott, cabinet member for the environment, recycling and streetscene, said Sheffield City Council had worked with Sova Recycling and union representatives to find a solution to the dispute.
A delay in implementing the reduced opening hours and the extension of redundancy pay to all operatives had been introduced among other improvements, said Mr Scott.
"However, the basic problem is that Sheffield is facing massive government cuts.
"Of course, if there was an alternative to making this cut we would take it. But the reality is that this is the consequence of such massive cuts," he said.
Contingency plans similar to those in place during previous strikes would be announced next week, Mr Scott added.