River Don spawning grounds to reopen after 150 years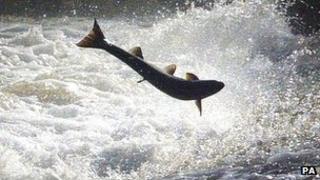 Fish could soon be able to reach traditional spawning grounds in South Yorkshire for the first time in over a century, a rivers trust has said.
Work has begun on a "fish pass" on the River Don at Meadowhall, allowing fish to swim through a weir which had previously made the river impassable.
Fish had not been able to swim upstream since the weir was built 150 years ago, said Don Catchment Rivers Trust.
The pass could mean greater diversity in the fish population.
'Huge improvements'
Karen Enyon, from the trust, said he pass would act as a "watery staircase or elevator" for salmon and eels.
She said it was part of a wider programme to improve the environment for the River Don's fish population.
"Fish have been returning to the Don over the last 30 years thanks to huge improvements in water quality, following a severe decline in numbers which started during the Industrial Revolution," said Ms Eynon.
"However man-made structures, such as weirs, are still preventing many species from reaching important spawning grounds further upstream."
Work was due to be completed on the fish pass in mid-October, said Ms Eynon.
Once finished, shoppers at the Meadowhall Centre would be able to see fish in action on the pass, she said.