Flooding in Abbeydale Road South angers Sheffield residents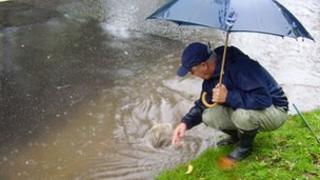 Residents and business owners in a part of Sheffield are calling for answers after heavy rainfall left a number of properties flooded.
Local people said properties in Abbeydale Road South had flooded twice in the past five years.
Restaurant owner Brian Moran said his property had been left with about 30-60cm (1-2ft) of flood water after heavy rain on Saturday.
Yorkshire Water said it was carrying out an investigation into the cause.
'Not being maintained'
Mr Moran said nobody was taking responsibility for the issue, despite calls for action.
"With such little rainfall in real terms, two hours' rainfall is not enough to flood premises like this.
"It's my understanding that all the drains up Dore Road on one side are completely blocked."
Mr Moran added: "Obviously it's not being maintained at regular intervals."
Sheffield council, which is responsible for clearing the drainage system, said the extreme weather had led to drainage systems being overwhelmed.
"Sandbags were delivered to properties in the area and a site visit on Sunday showed that the gullies were working," the council said.
It said the area was one at high risk of floods and close to streams. As such, the council said residents would always suffer problems in severe weather.
The owner of the Moran Restaurant said he had been in contact with the council and local MPs on the issue, but said "nothing seems to have been done about it and nobody is eager to talk".
'Everything we can'
Resident Valerie Creswell, whose property has been flooded twice, said she was "hysterical" when she saw water coming into her home and was helpless.
A spokesperson for Yorkshire Water said: "Flooding of any kind is an awful experience and we want to reassure everyone concerned that we're taking this very seriously and carrying out a full investigation into the cause of this flooding, with a view to doing everything we can to help resolve any issue that we discover.
"Until we know more, it would be irresponsible to speculate on the cause of this flooding.
"We will continue to liaise with all concerned to keep them updated on our progress and subsequent outcomes."