Eddie Stobart could axe 180 jobs in Doncaster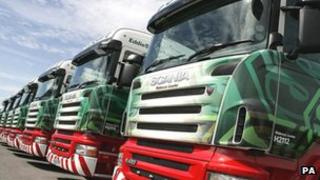 About 180 lorry drivers' jobs are under threat after plans were announced to cut transport operations at a goods distribution centre in South Yorkshire.
Eddie Stobart Ltd, which took over the Tesco distribution centre in Doncaster in August, said the decision was only made after a "thorough review".
All collections and deliveries would be carried out using Eddie Stobart's existing resources, the firm said.
The Unite union said its members were "very angry" at the proposals.
A 90-day consultation period will now take place involving 183 lorry drivers employed at the distribution centre, the company said.
'Very worried'
David Pickering, Eddie Stobart's managing director, said the company was reorganising its operations "to achieve a cost-effective, efficient and sustainable solution while still delivering an excellent standard of service".
He said the firm would do "everything it can" to help affected employees at the Doncaster distribution centre to find alternative posts within the Stobart group.
Harriet Eisner, the Unite union's regional officer, said its members had already taken a cut in terms and conditions as a result of the transfer from Tesco to Eddie Stobart.
She said: "They are very worried about their futures. This 90-day consultancy notice ends just before Christmas and they have the prospect of not having jobs at that point."
She said Unite members at the centre would be balloted over industrial action.