Doncaster bin workers end strike action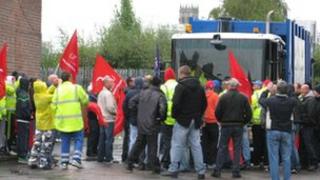 Refuse collectors in Doncaster have voted to accept a revised pay deal and end strike action.
Unite union members were due to strike on Friday and Monday before beginning an indefinite strike on 2 October in a pay dispute with employer Sita UK.
Talks took place between Unite and the company on Thursday.
On Friday morning union members returned to work after voting to accept a new three-year deal.
Sita UK initially offered a 1.7% pay rise for this year, but that was increased to 3.2%, with increases in line with the retail price index for the next two years.
Chris Weldon, from Unite in Doncaster, said: "That will, we believe, give our members near enough the increase that they started out for, the pound an hour they were looking for, over a period of three years.
"The important thing is that our members got an uplift this year, and their living standards won't decrease over the period of this deal."
Nick Browning from Sita UK said: "We are pleased to have reached an agreement with Unite and that strike action has been averted."
The company said it would bring extra staff over the weekend to clear the backlog that built up during the industrial action.
Doncaster Council said green bin collections would remain suspended until the household waste and recycling collections had returned to normal.
Doncaster's Assistant Director of Environment Gill Gillies said: "We appreciate the patience of residents during this frustrating time and we are confident that the company will have caught up with all missed collections by the end of next week."