Abbeydale Picture House in Sheffield sold at auction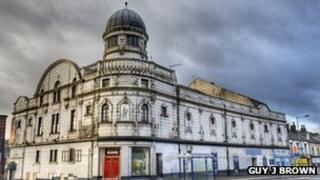 A former theatre and dance hall in Sheffield has been sold at auction.
Abbeydale Picture House, which was owned by a community group, was run as an arts venue before being repossessed by the bank earlier this year.
The Grade II listed venue which is approximately 2,433 sq metres (26,190 sq ft) sold for the guide price of £150,000.
A spokesman for the buyer said the building "was not financially viable" to be used as a theatre in the future.
Celebrity backing
The representative added: "It's a lovely facility. The intention is to bring it back into public use.
"It requires a lot of renovation. The key to that is to get a grant to facilitate that. The intention is to bring the public back into the building."
The building has been used as a theatre, dance hall and furniture store since it opened in 1920.
The campaign to save Abbeydale Picture House began in 2003, after the building stood derelict for 12 years.
The Friends of Abbeydale Picture House group restored the auditorium and installed a new stage, before re-opening in September 2008.
Patrons for the friends group included Peter Stringfellow, Sir Derek Jacobi and Michael Palin.