Public review saves Rotherham library from closure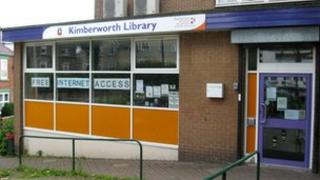 Plans to close two Rotherham libraries and cut the opening hours of others have been scaled back after a public consultation.
Rotherham Council said that just one library would close and seven others would see a reduction in their opening hours.
The council's original proposal would have seen two libraries shutting in an attempt to save £500,000 a year.
The Kimberworth Park library will close by April next year.
Elenore Fisher, customer and cultural services manager for Rotherham Borough Council, said: "We have listened to what people have told us and used those views along with our own assessments to create a service which will meet customers' needs now and in the future.
"These are always difficult decisions but by making these changes we feel we have ensured we can keep to our commitment to have a library within two miles of everyone and bring library services into the heart of communities."
The council said it would be reviewing the impact of the changes.