Casey Kearney was murdered in random attack in Doncaster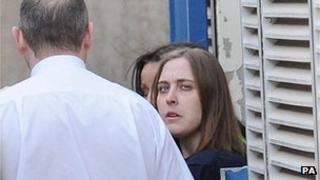 It was on Valentine's Day that a 13-year-old girl, Casey Kearney, was stabbed in a random attack in a South Yorkshire park by a woman with a history of mental health problems.
Hannah Bonser stabbed Kearney once in the stomach with a kitchen knife as the teenager walked through Elmfield Park, Doncaster, to get to a sleepover at a friend's house.
Bonser, 26, then walked to a mental health support unit and told staff she had done "something silly".
She was found guilty of murder in July and given a life sentence, to serve a minimum of 22 years.
Her defence team said she was a paranoid schizophrenic, but the prosecution argued that she was suffering from a personality disorder and killed Miss Kearney to get admitted to hospital.
'Complete psychopath'
The month before the attack, Bonser had gone to Doncaster Royal Infirmary and asked to be sectioned because voices in her head were telling her to harm others. But she was turned away.
During the trial at Sheffield Crown Court, the jury heard that Bonser spent a week in crisis accommodation in January at Rethink, a mental health charity.
She told staff there that she was a "complete psychopath".
The court heard that Bonser had a troubled, abusive past and had passed through the foster care system after the death of her mother. She had been sectioned three times.
Following the trial, NHS Doncaster commissioned an independent investigation into the care given to Bonser before the incident.