Melton Court care home closure on hold due to ownership talks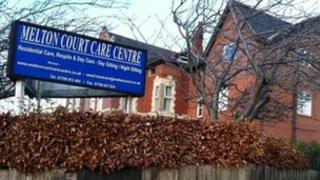 A South Yorkshire care home ordered to close by Friday after it emerged its owner was in jail has been granted a temporary reprieve.
Rotherham Borough Council said the transfer of the 21 elderly residents at Melton Court, Maltby, had been "paused".
It comes after the manager of the care home said she was in talks with potential new providers.
Melton Court has been operating illegally since 23 November.
Current owner Ishtiaq Zahir was convicted of causing grievous bodily harm and actual bodily harm in 2010 and jailed for eight years.
'Confusing and upsetting'
The Care Quality Commission (CQC) was informed of this in August 2012 and notified Zahir by letter on 19 September that it was cancelling the registration of the home.
Residents were told last week they would have 10 days to leave Melton Court.
But Rotherham Borough Council said it had now put the closure on hold.
A spokesperson said: "Although this might seem confusing and upsetting to the 21 residents it would obviously be totally unnecessary to move them if there is the potential for anyone to take the business over."
In a statement, the CQC said: "CQC has been informed that an alternative provider already registered with the commission has expressed an interest in taking over ownership of Melton Court.
"We have not yet received any application but, if received, will give this our full and urgent attention."