Next boss Lord Wolfson condemns Sheffield store refusal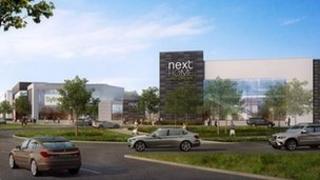 The boss of retail giant Next has criticised Sheffield planners for rejecting an out-of-town store that would have created 125 jobs.
Next wanted to build a £10m home store near the Meadowhall centre but the city council rejected it because it wants city centre investment.
Next chief executive Lord Wolfson said the council was misguided.
But council chief executive John Mothersole says the decision is right for the city's future.
The development would have seen the clothing and furniture retailer selling its usual homewares but adding new ranges like fitted kitchens and do-it-yourself goods.
Lord Wolfson claims the city council is opposed to any investment near Meadowhall - a large out-of town shopping mall which has been cited as one of the main reasons for the perceived decline of Sheffield city centre.
He added: "In my view their misguided belief goes a long way to explaining the sorry state of Sheffield city centre's shopping.
"For too long Meadowhall has been blamed for the city centre's failure. It's a convenient excuse, but I'm afraid it won't wash.
"Just look at the other great industrial cities of Britain. Manchester built its Arndale Centre extension, despite the presence of a massive out-of-town Trafford Centre.
"Sheffield is the only big British city to have done so little to develop its retail heartland."
'Moving ahead'
Mr Mothersole declared Sheffield was open to new business and retail opportunities.
He said: "Sheffield City Council has taken the decision not to agree to a proposed Next development at an out-of-town development and we believe we were right to do so.
"We need to make the right decisions for the future well-being of the city as a whole and not be blinkered into isolated developments.
"We believe a thriving commercial and civic city centre is key to all our ambitions to grow the wider economy.
"Sheffield wants and needs the city centre to bounce back. We're moving ahead with key schemes to make us a more attractive destination for investors."