Barnsley house evacuated after snow collapse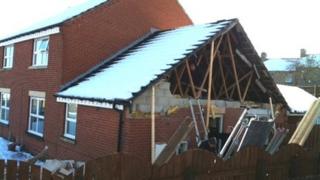 A family has been forced to leave their home in South Yorkshire after a part of it collapsed under the weight of the snow, the fire service has said.
Firefighters were called to the house on Wood Street, Barnsley, at 04:00 GMT on Saturday and found the gable end of the building had fallen down.
The fire service said nobody was injured and the couple and their four young children had been rehoused.
Several centimetres of snow had covered Yorkshire overnight.
The children's grandmother Julie told Radio Sheffield it was a frightening experience that had left the family shocked and upset.
She said: "[My daughter] rang me this morning and she was in hysterics really. She said it was like an earthquake.
"It's a really shocking experience. You wouldn't think snow would do this would you? I mean it is bad."