South Yorkshire tax rise 'needed to replace 60 police posts'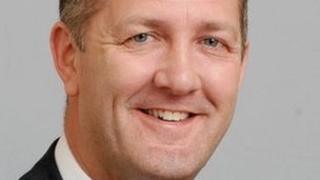 A council tax rise is needed to help replace 60 South Yorkshire Police officers who are due to retire, the Police and Crime Commissioner says.
Shaun Wright said the rise of 3.6% in the police precept would let the force "keep police on the beat".
The increase is a £5 rise, to £142.55, for the average Band D property.
Mr Wright said: "The primary aim is that my budget will still allow the force to deliver a greater police visibility in our neighbourhoods."
The proposal to the Police and Crime Panel is expected to generate £1.6m in additional income, enabling the replacement of officers expected to retire in the next financial year.
The police precept is the force's share of council tax.
'Exasperating' cuts
Under the government legislation which introduced the PCC role, a referendum is only required if the precept rise for South Yorkshire is more than 3.6%.
Mr Wright also said there would be 400 extra special constables over the next two years and extra police officers would tackle child sexual exploitation.
Some of the savings and efficiencies under review include discussions with West Yorkshire Police about collaboration of mounted officers.
Mr Wright said planned £43m government budget cuts between 2010 and 2015 was "exasperating" and represented a 20% reduction for policing in the county.
The budget for 2013-4 is the first following his election in November 2012.
He was elected as Labour's candidate in South Yorkshire with 51% of first preference votes.
The PCC has replaced the police authority and is responsible for holding the force to account, setting spending plans and has the power to hire and fire chief constables.
Officers with South Yorkshire Police cover an area of 600 square miles (1,554 sq km).