Brassed Off's Grimethorpe Colliery Band receives cash rescue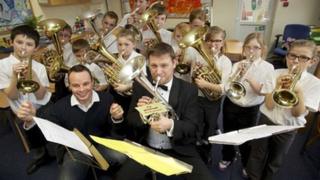 A funding boost has secured the future of the South Yorkshire band that inspired the film Brassed Off.
Earlier this month Grimethorpe Colliery Band announced it was in danger of closing after losing sponsorship cash.
Manager Nigel Dixon said two separate pledges of financial support had come to the band's rescue enabling it to continue playing.
The musical ensemble was founded in Barnsley in 1917 by workers from the local coal mine.
It survived the closure of the pit in 1993 and relied on sponsorship money from a coal mining company, which ended in 2011.
The amateur group found fame after its recent history was fictionalised in the 1996 film starring Ewan McGregor and Pete Postlethwaite, which the Grimethorpe band provided the soundtrack for.
It also featured in the opening ceremony for the London Olympic Games.
Mr Dixon said: "We had to practically shut the doors a couple of weeks ago, we couldn't see any way of continuing.
"This has put us in a completely different position.
"It's brilliant news. We're all so relieved."
Phone and broadband provider Plusnet has agreed funding for two years to ensure the continuation of the band's youth education scheme.
This gives 15 pupils at Birkwood Primary School the opportunity to take music lessons.
Esther Sutton Smith, school music co-ordinator, said: "Grimethorpe Colliery Band has made a massive impact on our little school.
"Almost every day the band's name is mentioned positively in and around Birkwood's community."
Funding has also been provided by Barnsley company A Shade Greener.
The full amount the band will receive from both firms has not yet been released.