Rotherham NHS Trust chief executive replaced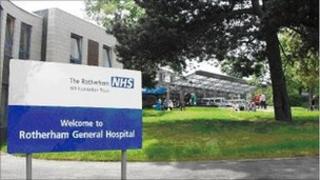 The acting chief executive of a troubled NHS trust in South Yorkshire has been removed from post and replaced as part of restructure plans.
Michael Morgan has replaced Matthew Lowry as interim chief executive of Rotherham NHS Foundation Trust.
The board of directors said there had also been an "immediate reduction in the number of executive directors".
In October, the trust said it was proposing to cut 750 jobs to save £50m by 2015.
In a letter sent to staff, Peter Lee, chairman of the trust's board of directors, said reducing executive director posts would "provide for a focused, more streamlined executive team".
He said the changes had been made because the board had "identified a number of significant issues of operational and financial performance that it believes must be addressed as a matter of urgency".
He added that Mr Morgan had a successful track record of hospital restructures and turnarounds spanning 30 years.
'Questions remain'
Mr Lee said other steps being taken included a pause to the ward closure programme, which was announced last year.
A review will also take place of an IT system for patient records which has been problematic.
The letter also stated a reassurance to staff that the trust was able to "meet all payroll and creditor obligations".
Pam Johnson, Unison head of health for Yorkshire and Humberside, said: "Still many questions remain about what happens next in the restructure. Questions still remain about the trust's viability."
She added: "My greater concern is for those lower paid staff whose jobs are at risk and still appear to be at risk. We've received no reassurances about that."