Stainforth mayor says landslip could have been 'another Aberfan'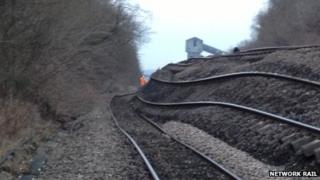 The mayor of a South Yorkshire town overlooked by a spoil heap which collapsed said "it could have been another Aberfan".
The landslip at Stainforth has closed a rail line, but Arlene Abbot said it could have hit "houses, children and schools" if it had gone the other way.
Hatfield Colliery said the slip had happened in a "separate area".
In 1966 a spoil heap landslide in Aberfan, south Wales, killed 144 people, including 116 children.
Hargreaves Services, which runs Hatfield Colliery, said their tips are "constantly monitored" in line with legislation introduced after the disaster.
Train services between Doncaster, Scunthorpe and Cleethorpes will be suspended for at least eight weeks after the landslip lifted a section of railway track.
It is not yet known what caused the collapse.
'Black hills'
Ms Abbott, mayor of Stainforth Town Council, said residents have always been worried about the spoil heaps.
"We call them the black hills because it's that high. We've always been concerned with them but in the last two, three or four years they've got higher and higher and our concern is you never know what's going to happen," she said.
Michael O'Sullivan from Hargreaves said the area that collapsed is 1000m (3280ft) away from houses in Stainforth, and is completely separate from the heap closest to the town.
He said: "That area has not been worked for some while. The south area (where the landslip happened) is one that is currently being worked with spoil coming out of the mine.
"Neither our engineers, Network Rail or the Health and Safety Executive and their engineers are entirely certain what has caused this approximately 200m (656ft) slip."