South Yorkshire chief constable's Hillsborough email 'offensive'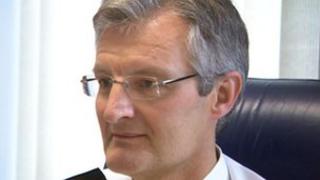 An email from South Yorkshire's chief constable about the Hillsborough families' campaign has been strongly criticised by the police watchdog.
David Crompton said the families' "version of certain events has become 'the truth' even though it isn't".
His email in September was sent days before the Hillsborough report.
The Independent Police Complaints Commission (IPCC) said the comments were "at best ill judged and at worst offensive and upsetting".
Mr Crompton's email to his senior staff read: "One thing is certain - the Hillsborough Campaign for Justice will be doing their version... in fact their version of certain events has become 'the truth' even though it isn't!!
"I just have the feeling that the media 'machine' favours the families and not us, so we need to be a bit more innovative in our response to have a fighting chance otherwise we will just be roadkill."
Chief apologises
The internal email, which came to light following a Freedom of Information request, was sent as part of South Yorkshire Police's preparations for the publication of the Hillsborough Independent Panel report last year.
When the report was published, it provoked widespread condemnation of the force's response to the disaster at Sheffield Wednesday's ground in April 1989, which left 96 Liverpool fans dead.
South Yorkshire Police's response to the tragedy is currently subject to a major inquiry by the IPCC.
In a brief statement on Tuesday, South Yorkshire Police said: "The chief constable apologises for this email and the force continues to give its full support to the ongoing inquiries."
This followed an apology from Mr Crompton last week when he said he had not intended "to challenge the integrity and views of those who lost loved ones in the Hillsborough disaster".
Last month, the Police and Crime Commissioner of South Yorkshire, Shaun Wright, wrote to the IPCC when he was made aware of the email.
IPCC Commissioner Nicholas Long said he had now written to the chief constable to express his concerns about the content.
He said: "Families and individuals affected by the Hillsborough tragedy, along with the wider public, will rightly be concerned over the apparent attitude displayed by this communication within the highest ranks of the force which is currently under investigation in relation to the actions of its officers and staff around the disaster."
But Mr Long said that while "these emails have serious implications for public confidence" they did not amount to recordable conduct and the IPCC did not require a formal referral.
He said he had told Mr Wright it was his responsibility to decide what further action was appropriate.
Mr Wright said: "I have raised my concerns and disappointment with the chief constable but I have now accepted the apology he has issued and I believe I have taken all appropriate action at this stage to deal with the matter."