Sheffield businesses asked to help pay for flood defences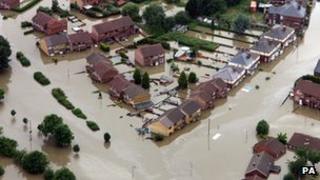 Around 300 businesses have been asked to help pay for a £11.4m flood defence scheme in Sheffield.
The government announced it would contribute £9.5m towards the Lower Don Valley project earlier this month, with the rest coming from the council and local businesses.
Hundreds of properties were damaged when the River Don flooded in 2007.
A series of public meetings will be held next month over plans to create a Business Improvement District (BID).
Sheffield Chamber of Commerce said all businesses protected by the new flood defences would become part of the BID, and would have to make payments based on their rateable value over a period of five years.
A majority of the 300 companies affected, between Nursery Street and Blackburn Brook, need to approve the plan before it can go ahead. A ballot is expected to take place in July.
The Chamber's executive director, Richard Wright, said: "Without a majority vote, a BID will not go ahead and the flood defences will not be installed."
Plans for the Don Valley flood protection project include building new flood walls, installing flood gates, as well as repairing and reinforcing existing defences.
The government said it would create 2,700 jobs in the area.