Stocksbridge Leisure Centre campaigners take legal action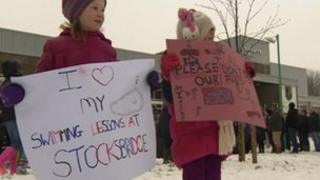 Campaigners trying to keep a Sheffield leisure centre open have begun legal action against the council.
Sheffield City Council will stop funding Stocksbridge Leisure Centre next month as part of £50m budget cuts.
The campaign group 4SLC is applying for a judicial review of the decision, on the grounds that a "proper consultation" was not carried out.
The council said the centre is expensive to run and has falling visitor numbers.
'Impact of cuts'
It has given campaigners until the end of April to come up with a business plan to keep the centre open, before it removes its £400,000 subsidy.
The centre's operator, Sheffield International Venues (SIV), said if alternative funding was not found, Stocksbridge would have to close.
Nearly 1500 people signed a petition calling for the closure plan to be scrapped.
Councillor Bryan Lodge said: "The community are quite within their rights to launch a judicial review. We will deal with that in due course.
"There's opposition to every cut. I fully understand and appreciate the strength of feeling. That's the impact of these cuts being forced on us by government cuts to Sheffield."